The 10 most beautiful beaches in the Seychelles
The Seychelles is located in the northwest of the Indian Ocean. This archipelago of 115 islands is the ideal destination for a change of scenery. They have heavenly beaches lined with palm trees and are sometimes surrounded by granite rocks with unique structures.
A small cruise aboard a catamaran is the best way to discover these beautiful Seychelles islands and enjoy the warmth of its salt waters. If you cannot visit the most beautiful beaches of the archipelago one by one because of a lack of time or money, these ten destinations are preferred.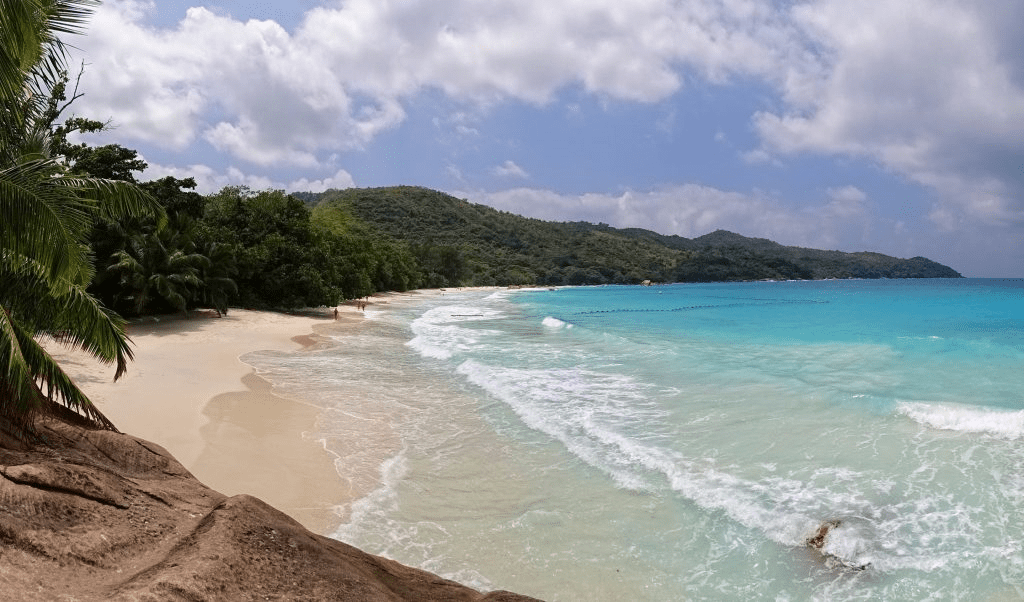 1. Anse Lazio de Praslin
Undoubtedly, it is one of the most sumptuous beaches in the Seychelles. It is one of the most beautiful places in the world. Bordering the north-east of Praslin Island, Anse Lazio beach is decorated with granite rocks, fine sand and imposing palm trees. Bathing in the turquoise waters promises to be a relaxing and enjoyable activity.
It is one of the few supervised beaches on the archipelago, ideal for families. Restaurants and shops can be found nearby.
2. Anse Georgette de Praslin
Not far from there, in the north of Praslin Island, is Anse Georgette. This white sand beach is surrounded by lush greenery. To get there, you must pass through the Constance Lémuria Resort Hotel. In this case, permission must be sought from the institution. After that, you have to walk for 30 minutes.
A boat is the easiest way to get to the beach. Another significant asset is that its landscape is still intact and worthy of a postcard.
3. Grand Anse de la Digue beach
La Digue is one of the most beautiful islands in the Seychelles. It is also home to the archipelago's most remarkable beaches. The Grand Anse is one of them. It is a wild place that can surprise you with its beauty. It boasts a large sandy beach, perfect for sunbathing and group sports such as volleyball.
But you can also practise surfing and many other water activities. Often deserted, the beach of Grand Anse presents itself as an ideal destination for people who want a little solitude and calm.
4. Petite Anse de la Digue
Still on the island of La Digue, Petite Anse Beach is another recommended stop. Not very busy; it has the same assets as the Grand Anse. Indeed, the beach is located in a green setting, still in the wild.
It is a place to visit if you want to appreciate the charm of nature. Here you can surf, swim, sunbathe and enjoy picnics.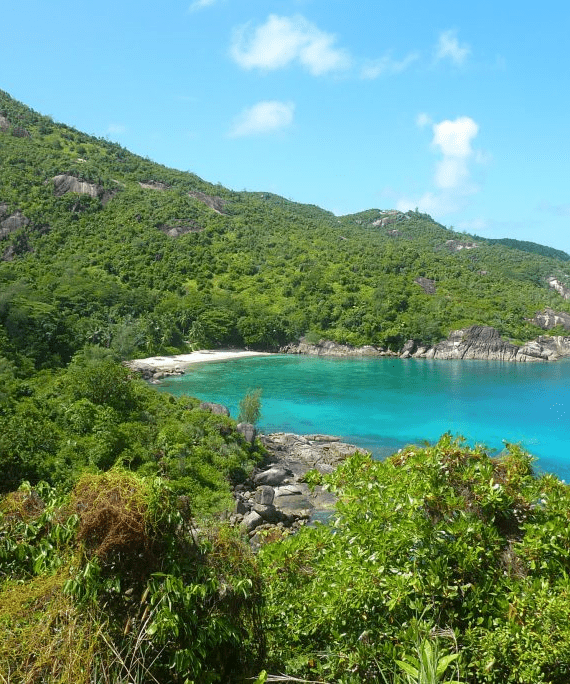 5. L'Anse Source d'Argent de la Digue
Hidden behind the coconut grove of Union Estate, Anse Source d'Argent is one of the most famous beaches in Seychelles. It can be seen in pictures on postcards. It is, therefore, an unmissable itinerary on a boat cruise in the Seychelles.
Over a mile long, this beach benefits from turquoise water that shines under the sun. It is decorated with granite blocks and beautiful vegetation. It is also known for its underwater life. Anse Source d'Argent has inherited beautiful coral reefs.
6. Anse Coco de la Digue
You can get to this beach via the Grande Anse. The journey takes about 40 minutes. The walk promises to be pleasant, as the path to it enjoys a lush green setting. Once there, you can appreciate the charm of Anse Coco and its crystal-clear water.
The coconut trees provide the setting and shade for visitors. The beach attracts experienced swimmers. It is also an ideal place for a family outing. Here you will find natural swimming pools to enjoy swimming in cool water.
7. Anse Major de Mahé
The beach of Anse Major is located north of Mahé Island. This small wild bay is accessible from the Morne Seychellois National Park. So, if you plan to walk there, you must walk for an hour.
That said, during this hike, you can make rich discoveries. Arriving at the beach of Anse Major, you will discover an unparalleled place. In addition, this wild bay has an exceptional seabed.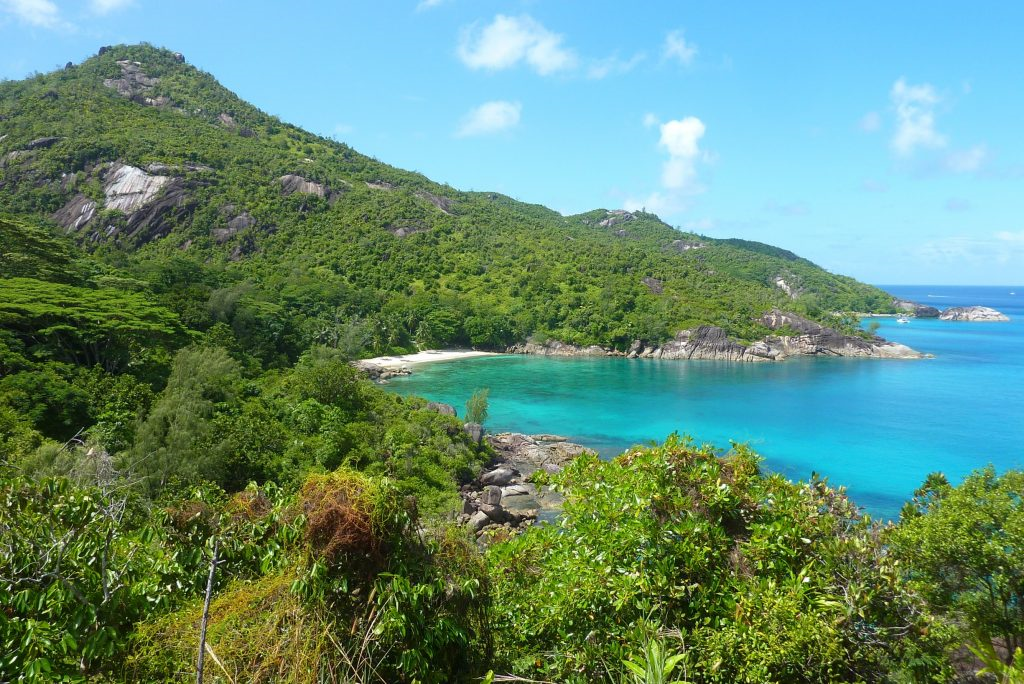 8. Anse Beau Vallon de Mahé
This time, head south of Mahé. The area has a white sandy beach that stretches over a mile. This is Anse Intendance. Prestigious stopover for surf lovers, the place also seduces swimming fans.
The beach also has a particular look thanks to its granite rocks. Its sea is shallow and so you can swim there in complete serenity. Anse Beau Vallon is also easily accessible. Moreover, it is never crowded.
9. Anse Major de Mahé
The Anse Major is visible in the north of Mahé Island. It is one of the most beautiful beaches in the Seychelles. This small bay stretching for about 3km, bordered by coconut trees, allows you to practice several activities.
Scuba diving is the most recommended. The crystal-clear waters of Anse Major provide the perfect backdrop for discovering beautiful reefs. You can also enjoy jet skiing, water skiing and a glass-bottomed boat cruise here.
10. Anse Marron de la Digue
It is a secluded beach south of La Digue, a natural little paradise for adventurers. The Anse Marron offers fascinating decor. Its precious ornaments are its granite rocks, natural swimming pools, crystal clear water, white sand, and vegetation.
To get to the beach on foot, you must go for a short hike, which will delight adventure fans and sports enthusiasts. But you can also discover this dream corner on a boat trip.
Discover the most beautiful beaches of Seychelles by boat
If you want to live a new adventure, make many discoveries and especially enjoy the beaches, a sea walk will meet your needs. Here are the reasons:
Discover several places at once
If you cruise the Seychelles waters, you are more likely to discover several places at once. Indeed, during sailing, you can schedule a stopover in the 4 most beautiful islands of the country, including the Mahé, La Digue, Praslin and Silhouette islands and discover the heavenly beaches mentioned above.
Curieuse Island is also an unmissable destination, especially during family holidays. A stay in this place will delight the children. They can meet giant turtles, some of which are 200 years old. The next stop will be Cousin Island. It has a nature reserve where more than 25,000 birds take refuge.
Many other places are worth visiting during the cruise, including a Little Sister, Fregate, Birds Islands or Felicite. It is up to you to choose your stopovers and enjoy the walk!
Doing new activities
A boat cruise to the Seychelles is also an opportunity to experience new activities. Instead of a sunbathing session and a few minutes of swimming in the sea, you can try big game fishing. It is a sporting activity that attracts many tourists to the region.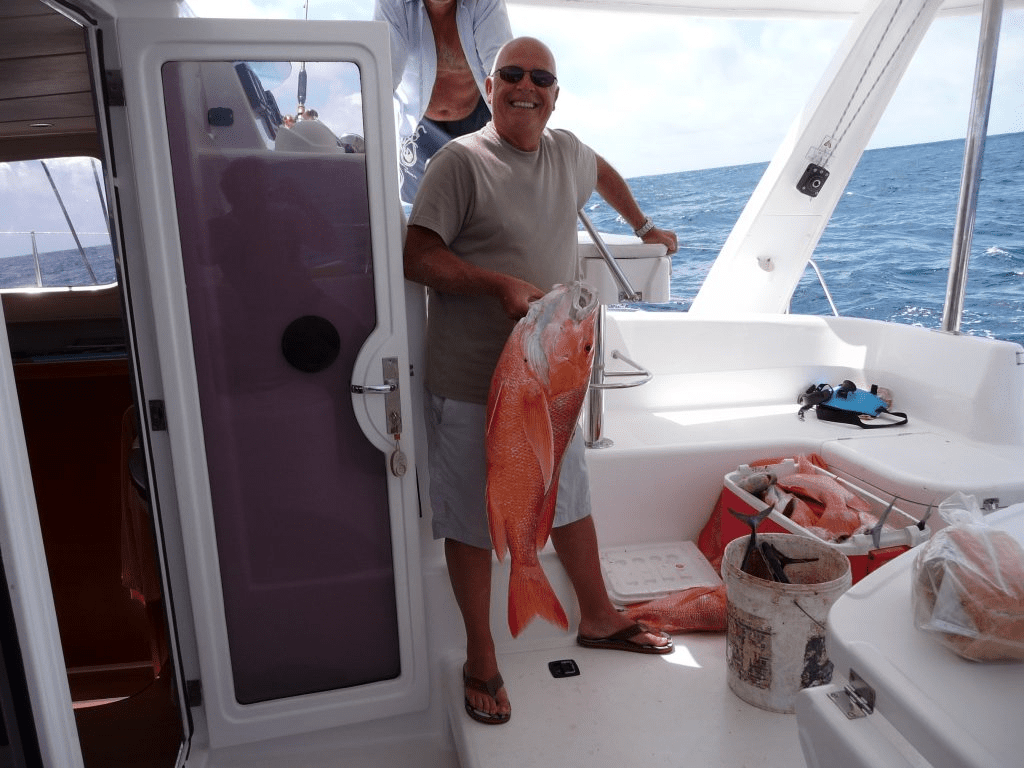 Whether you rent a boat with or without a skipper, you can come back with different kinds of fish, including the grouper, the barracuda and the crocodile Morphy. Do not forget to go diving to discover the coral reefs of the beautiful islands of the archipelago. These include Astove Island, with its caves and crevices, and Aldabra Island, with its famous green turtles.
Discover the culinary richness of the Seychelles
A boat cruise to the Seychelles is also a culinary journey. During the adventure, you can enjoy seafood and tropical fruit dishes. Kat-kat is one of the most renowned dishes. It is made from tuna, coconut milk, bananas and bird eggs.
For the bravest, you should try the zourit curry prepared with octopus and the dogfish curry made with bats.
Your partner for a Seychelles cruise
Are you interested in taking a cruise to the Seychelles? Enjoy our catamaran rental offer with Skipper. We offer innovative itineraries which will allow you to live a unique holiday.
The cruise will take place on a private boat accommodating up to 8 people. This is a Lagoon 440 called Aquatic II. Designed by an expert, including Bénéteau-Jeanneau, the catamaran guarantees comfort and safety. It has a cockpit, a square, a cockpit, a flybridge and a lounge at the front.
Know that with us, you have the privilege of choosing your route, that is, your stopovers and visits. For example, you can discover magical places such as Praslin, Mahé, La Digue or Curieuse Island. You can get a 100% free quote.
The skipper and the cook will be at your service throughout the adventure. They will remain both helpful and discreet to make your cruise unforgettable.